IF YOUR MATTER COULD REFORM
Dink Press, 2015
What they're saying:
"Few poetry collections strike me to the core. In 2009, D. A. Powell reduced me and a third of his audience to shocked tears when we expected his witty, cutting verse and he recited "Chronic" from his then latest collection, Chronic. Now, Okaji has stepped up to the plate and added his work to the short list with this collection."
Jaffa Kintigh
"Like the best, it's steeped in Stygian waters, chipped at by the fine, diamond-point of time, and polished to an exacting degree."
Leigh Ward-Smith
Order Details: Dink Press Store
*
YOU BREAK WHAT FALLS
Origami Poems Project, 2015.
An origami micro-chapbook (yes, that's right), You Break What Falls is available for free download from The Origami Poems Project. As stated on their website, "The mission of the Origami Poems Project™ is the encouragement of literature & the arts by bringing Free Poetry to everyone through the printing and distribution (world-wide) of free Origami micro-chapbooks as well as through poetry events, both of which engender increasing awareness of and appreciation for the art of poetry… and for the poet in all of us."
Don't worry, they also provide folding instructions!
*
HERON CLAN III
I've five poems appearing in this anthology containing the work of thirty-three poets from the U.S. and Asia.
*
THE CIRCUMFERENCE OF OTHER
Silver Birch Press, 2015.
My chapbook, The Circumference of Other, is included in Ides, a one-volume collection of fifteen chapbooks published by Silver Birch Press and available on Amazon.com.
*
GOSSAMER: An Anthology of Contemporary World Poetry
I have four poems appearing in Gossamer: An Anthology of Contemporary World Poetry, published by Kindle Magazine, in Kolkata, India.
*
No Eye But the Moon's: Adaptations from the Chinese
Origami Poems Project, 2016.
Another micro-chapbook.
*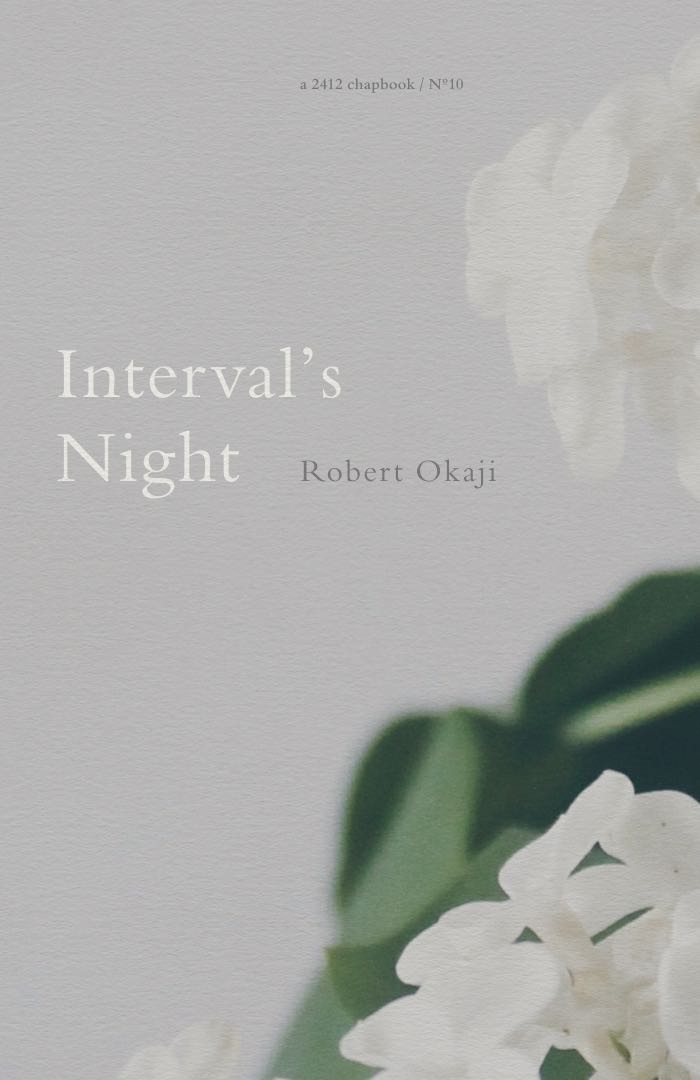 Interval's Night
Platypus Press, 2016.
A mini-digital-chapbook.
*
From Every Moment a Second
Finishing Line Press (forthcoming, October 2017)
What they're saying:
From the sex lives of mayflies to the plus and minus of human love, in his backyard or over the kitchen sink, Robert Okaji is a soul whisperer. With zen-like precision and depth he shepherds us between the habitual world, in which "the house finch sings as if/all air will expire at song's end" and invisible realms where "the pear tree's ghost shudders" and time does its magic act: "your breath/still out there//drifting". He makes you think—a lot—then gives you a reason to laugh ("Wait, wait…I bought a ticket"). These poems please the palate in so many ways!
–Lynne Burnett
Robert Okaji has an uncanny knack for observing what moves in the shadow of a word: in the numinously ordinary things abiding on shelves and in boxes. Writing with a reticent and inquisitive eye, he finds the unspoken grace in an unremarkable bird, an incomplete spice rack, or the soapy remnants of a morning shave, all documented in the inevitable music of his craft. The result is this chapbook: a rustic, elegant anthology of doubt and illumination, and superior example of 21st century Americana.
–Daniel Schnee, ethnomusicologist.
We worry about where we are in this new century, but here is a poet whose concerns are one step ahead of us — delving centuries behind to get there. If we are indeed in a deeper "economy of dying" as he writes in "Take Away," then Robert Okaji is our foremost venture capitalist — investing the grim with whimsy, rejoicing without looking away, looking forward without forgetting. Be warned, nothing is too easy in his world; even comfort is a "runaway bus," and having a ticket does not guarantee it will stop for you.
–Jeff Schwaner, author of Wind Intervals.
Available at Amazon.Com and Here